SERVING LOS ANGELES, ORANGE, RIVERSIDE, SAN BERNARDINO, Imperial, AND SAN DIEGO COUNTIES
(951) 252-8800
Springs Virtual Academy is a comprehensive educational approach that supports academic and social growth in a virtual setting. Our credentialed teachers prepare synchronous learning opportunities that engage students and meet them where they are while preparing them for what is to come.   
Virtual Academy staff believe students can build relationships, connect, and learn in any environment. All students have access to curriculum, support, and growth opportunities through; daily direct instruction, small group sessions, online social time, park days, field trips, and parent guidance. 
Our Mission
As a part of Springs Charter School, our mission is to empower parents to work collaboratively with educators, creating a unique partnership that encourages students to take the initiative in their learning. We strive to provide students with a virtual educational experience that connects them to the world through collaboration and exploration. We value the effect that positive personal connections and relationships have on learning, and we provide the space and time for these connections and relationships to develop. 
DEFINING ELEMENTS OF THE PROGRAM
Personalized Learning:
Students have the opportunity to work on their personal goals during our academic day with the support of their teacher and instructional aide. Students can use this time to work independently, collaborate with peers, or in a small group supported by a teacher or instructional aide.
The Community is our Classroom:
Students can bring their passion to life during their elective time, which includes; art, foreign language, physical activity, coding, or student-designed. Teachers support these passions and offer students opportunities to present their finished projects. We invite families into the classroom during our Back-to-School night, open houses, and awards/ promotion ceremonies. Students explore their community within the region during our monthly teacher-hosted park days.
Teacher/Student/ Family Collaboration:
In Virtual Academy, we believe that we are a team and that all participants have a shared responsibility for the success of each student. Our teachers and instructional aides work with students during live online sessions as a whole group, in small groups, and one on one. Students log on to live sessions prepared to engage and learn. We expect students to have their materials such as; paper, pencils, and books nearby. Families work with their students throughout the day to ensure that students attend their live sessions, demonstrate their learning, complete and submit assignments, and attend tutoring sessions as they need additional support. In addition to regular communication via emails and phone calls, teachers meet with families virtually every 20 days to celebrate achievements and discuss progress. 
Academics
Our credentialed multiple subject teachers prepare comprehensive standards-based lessons, including direct instruction, inquiry discussions, and independent practice. 
Direct instruction and inquiry discussions are synchronous and are crucial to student learning and mastery. Asynchronous independent practice and daily assignments are evidence of the learning, not the learning itself. Students and families can access weekly checklists, daily assignments, assignment feedback, and grades through our learning management system. 
K – 1st
2nd – 6th
7th – 8th
Lexia
Raz Plus
Ready Core Reading w/books
Letterland w/readers
Ready Classroom Mathematics w/manipulatives
Studies Weekly
Generation Genius
Lexia or Reading Plus
IXL
Raz Plus
4-5 Books for Literature Studies
Growing w/Grammar
Ready Core Reading
Handwriting w/o Tears
Ready Classroom Mathematics w/manipulatives
Studies Weekly
Generation Genius
Reading Plus
IXL
4-5 Books for Literature Studies
Growing w/Grammar
Ready Core Reading
Ready Classroom Mathematics w/manipulatives
Studies Weekly
Generation Genius
Sample Daily Schedule
---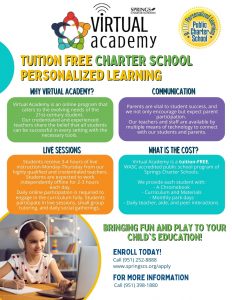 Virtual Academy Serving Southern California Counties