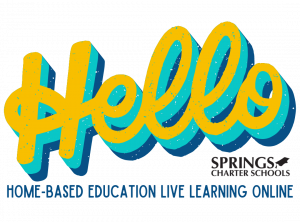 Say Hello to H.E.L.L.O.!
Springs Charter Schools homeschool students are invited to further personalize their learning by enrolling in H.E.L.L.O. classes.
Lessons are available for students in TK through 8th grade and are taught by credentialed teachers at Springs Charter Schools who are skilled online instructors and passionate about their content. There are even education classes available for parents! Instruction is all live and online.
Your students can get extra instructional support in key skills in core subject areas or learn new life skills and explore their interests.
Sign up for a single class to inspire your child's curiosity or fill a learning gap, a tutoring session to get extra support when struggling, a short-term class to introduce a new topic or review a prior skill, or maybe a six-week academic support class to supplement your math instruction at home. There are so many options to choose from!
We can't wait to meet you at H.E.L.L.O.
Click here to learn more and book a class!
If you'd like to download the app and become part of the H.E.L.L.O. community to stay connected and updated on H.E.L.L.O. and our course offerings, click here.