Select a County to view all employment opportunities listed on EdJoin.org: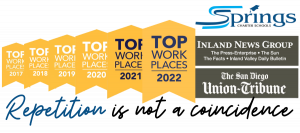 At Springs Charter Schools, we're dedicated to ensuring the success of each and every student, whether it be directly in the classroom or through administrative support on the back end. Our employees truly love what they do.

Within each classroom, there are teachers dedicated to personalizing learning and fostering the curiosity of the individual student. There are spaces filled with books and computers and bright, energetic people with a passion for education. There are passionate and devoted parents and board members who believe in the importance of parent choice and parent involvement as the key mechanisms for changing the face of education (for the better).

Over 1,000 of the most creative, inspiring, and dedicated people you'll ever meet work hard every day to provide students with a high-quality personalized education.
---
Salary Schedules:
CalPERS Pay Schedules: