27740 Jefferson Avenue, Temecula, CA

(951) 225-7729
This K-12 program caters to the needs of 21st-century students allowing them to complete their education anytime, anywhere, with the full support of single-subject credentialed teachers. Venture Online provides a comprehensive program that recognizes individual learning styles as one of the keys to student success and provides opportunities for personalized learning.
The goal of Venture Online is to make it possible for students to achieve success while pursuing their dreams. We believe that learning should be a personalized, positive experience that opens doors for future success. 
A program of Empire Springs and Harbor Springs serving students in Southern California Counties.
Why Venture Online?
Venture is an online school that caters to the evolving needs of the 21st-century student.  Our credentialed teachers share the belief that all students can be successful with the necessary tools.
Venture provides a complete program that recognizes and understands that students are individuals with unique learning styles which is key to achieving academic success.  Understanding the individual desires of our students, we provide opportunities to earn credit for the dedication to pursuing one's passion.  We provide an engaging learning environment offering a challenging curriculum, highly qualified teachers who go the distance in order to bridge the gap between average and successful accomplishments, and a supportive means to graduate with an accredited high school diploma. Venture believes that learning is a life-long skill and provides for college and career counseling.
Mission Statement:
The goal of Venture Online is to provide students with the necessary tools to allow them to achieve academic success while pursuing their personal dreams.
Defining Elements of the Program:
Venture Online realizes that certain key factors are essential in order to achieve academic success:
Single Subject and Multiple Subject Credentialed Teachers:  Venture Online provides High School students with highly qualified single-subject credentialed teachers in Math, Science, Social Science, and English in grades 9-12. Our K-8 students are supported by multiple-subject credentialed teachers. All our students have opportunities for daily live interaction and/or instruction sessions with grade-level and subject-area teachers (schedules vary by grade). Teachers are also available for additional support through daily office hours. 
Use of Learning Styles:  We recognize that all students have a unique learning style, therefore, we provide parents and our K-8 students with an opportunity to explore how students learn best through the use of a learning style profile. The information provides us all with a wealth of knowledge for student success!
Personalized Learning Plans:  Each student has a Teacher of Record they meet with regularly one-on-one. Taking into account the student's future plans, academic history of grades and credits, post-graduate plans, as well as the student's personal interests, the teacher creates a personalized plan for each student.
The Community is our Classroom:  We offer a variety of elective courses based on your student's individual interests and skills that can be completed by your child in your local community. We encourage dual enrollment during high school so that students can accelerate their enrollment into college as well as earn credit in high school. In addition, offering online articulated college courses allows our program the necessary flexibility while students are pursuing their personal dreams and interests.
Parent/Student/Teacher Collaboration:  Parents are vital to our student's success and we not only encourage but expect their participation. At Venture we believe that we are a team and that all participants have a shared responsibility for the success of every student; Student, Parent, Teacher, and Director. In any distance learning environment, communication is essential for the best result and experience. Our teachers and staff are available by multiple means of technology to connect with our students and parents.
Bringing our Distance Learning Together: At Venture, we understand that while you may have a need for virtual learning, you also have a need for connection. Through Homerooms, virtual events, optional in-person field trips, and more we are dedicated to bringing our Venture community together. Our culture is built around providing opportunities for our students, parents, teachers, and staff to get plugged into our community and go through this journey together!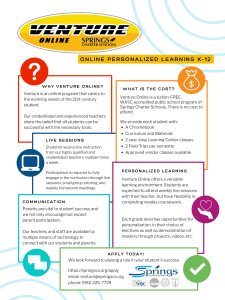 If you would like to contact a member of the Venture staff, please fill in the form below.