Ethan and Noah Arevalo, 2nd and 6th graders in Springs' Homeschool program, are both 1st place award winners in the Writing Extravaganza. Both boys are avid readers who are working hard to develop their writing abilities.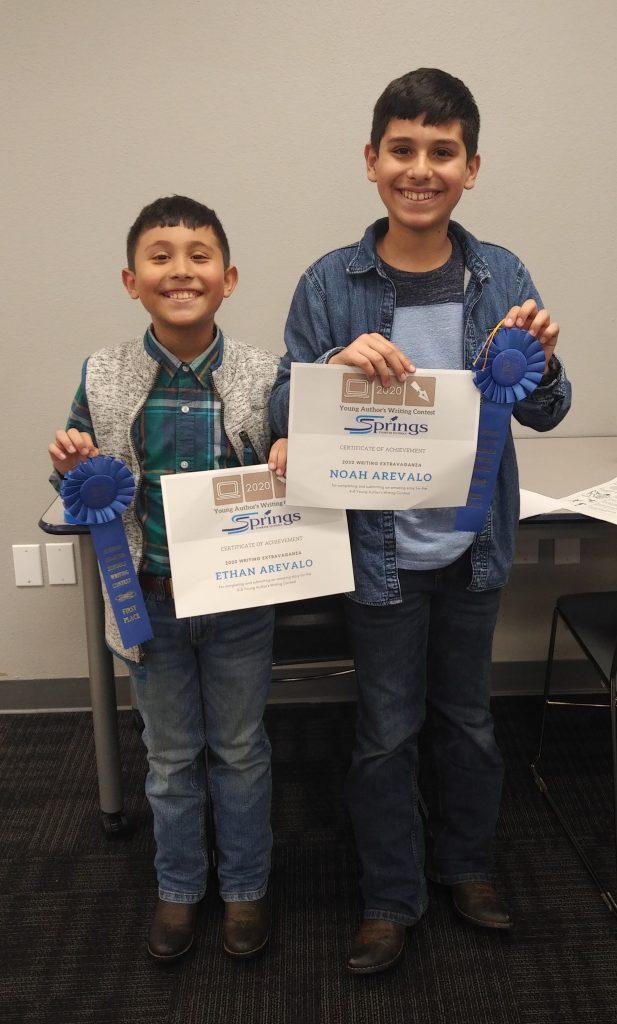 The Extravaganza is a writing contest for students grades K-8, with students competing by grade level. They may submit one of two kinds of entries, a Caldecott entry for those who want to submit a story along with illustrations, and Newberry, exclusively for stories.  Ethan, age 8, and Noah, age 12, both entered the Newberry category.
Ethan submitted a story called The Adventure of Sir Meats-A-Lot in which a brave knight crosses a sea of noodles to rescue a fair maiden who is being attacked by wild Gummi Bears. Noah wrote An Amazing Adventure in Biopolis where twins Nick and Mila travel through a human body city in search for a mysterious illness that is causing their younger brother to be sick. Ethan and Noah received Certificates of Achievement and first place ribbons for their stories.  It was their first time participating in a writing contest.
"They both have great imaginations," said mother Yessel Arevalo, "often creating their own make-believe games to play."
The family reads together for inspiration from books, she said, and both boys are learning to write using the Institute of Excellence in Writing program.  Ethan's interests include food and animals; Noah likes mystery, fantasy and science fiction stories.  Noah has formed a book club called Happy and Blessed Book Club with eight members, including Ethan, who meet monthly to discuss books of various genres.  So far, he has led discussions of A Wrinkle in Time, The Miraculous Journey of Edward Tulane, The Phantom Tollbooth and The Diary of Anne Frank.  He has read over 60 books since the start of the school year.
Ethan enjoys working with his hands, creating and building toys and gadgets.  He recently built a zoo model with complete animal enclosures and sky tram utilizing Legos and small animal figurines.  Other interests for the boys include horseback riding, exploring the outdoors and swimming.