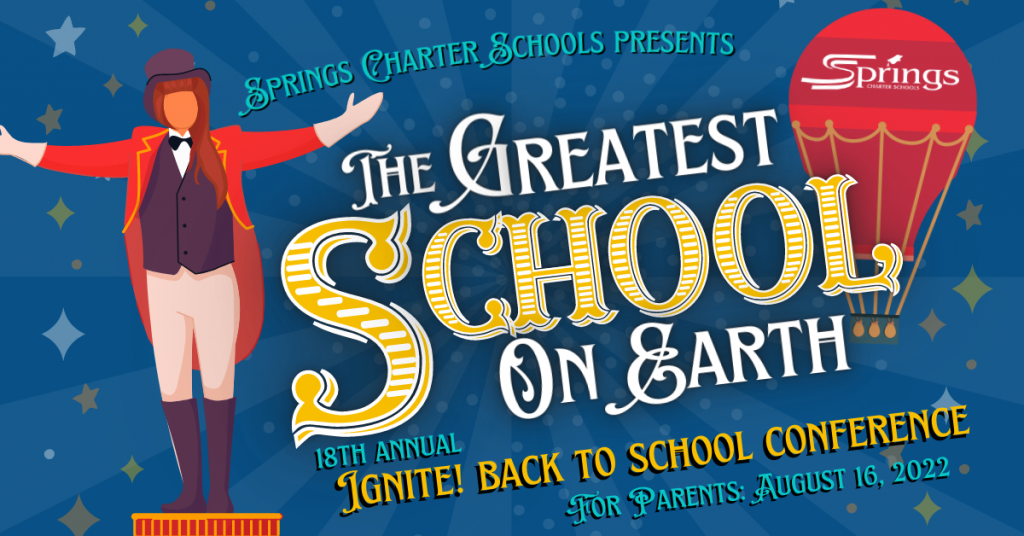 Hello Springs Families!
Step right up to our 18th Annual Springs Charter Schools Parent IGNITE! Conference on Tuesday, August 16, 2022. This year we are celebrating Springs, The Greatest School on Earth! 
We are excited to announce that our engaging and inspiring keynote speaker will be Steven Bollar aka Stand Tall Steve. Steve is an educational leader, author, and master motivator working with organizations to improve climate and culture. His quick wit, experience, and in-depth knowledge make him one of the premier speakers available. He has been a classroom teacher,  assistant principal, principal, and superintendent and uses those experiences to speak about how to think differently about education. His positivity and energy are contagious!
Stand Tall Steve will host a live Keynote address online and a live break-out session!
We hope you will be amazed, inspired, and energized for the year to come. Our IGNITE! Conference is an opportunity for you and fellow parents to hear about all Springs Charter Schools has to offer our families and to attend workshops focused on empowering our parents.
Our conference will be held ONLINE with live sessions and an abundance of pre-recorded learning experience options. This year will feature homeschool staff, instructional department leaders, and our ever-popular, Chips and Salsa duo! Registered participants will have access to our live sessions on the day of the event and will be able to interact with our presenters in real-time! You'll receive information about all of our amazing breakout sessions in August prior to the event. In addition, the first 1,000 participants that register will receive a Springs "Under the Big Top" Box in the mail prior to the event.
Our IGNITE! Parent Conference is focused on VOICE and the importance of FEEDBACK this year. 
Learners need endless feedback more than they need endless teaching

Why VOICE Amplifies Learning
People who have a voice are more motivated to learn and produce.

When everyone shares knowledge and ideas, then everyone participates in solutions. They become the

ringmasters of their own lives!

Voice builds emotional and social resilience.

Passion is

personal

– voice helps make learning interesting to each person.

Capable communicators are in short supply in the world. The more we practice using our voice, the better our communication becomes!
 So Come One, Come All as we reach for the stars for ourselves and for our kids. 
#SpringsNation   #GreatestSchool

Kathleen Hermsmeyer, Ed.D.
Superintendent