Jaydan Driskill, 18, a senior who will soon graduate from Springs' Venture Online program, has received a full academic and women's wrestling scholarship from Central Methodist University (CMU) in Missouri. She hopes to hone her wrestling skills at the CMU and compete in the Olympics in 2024 and 2028.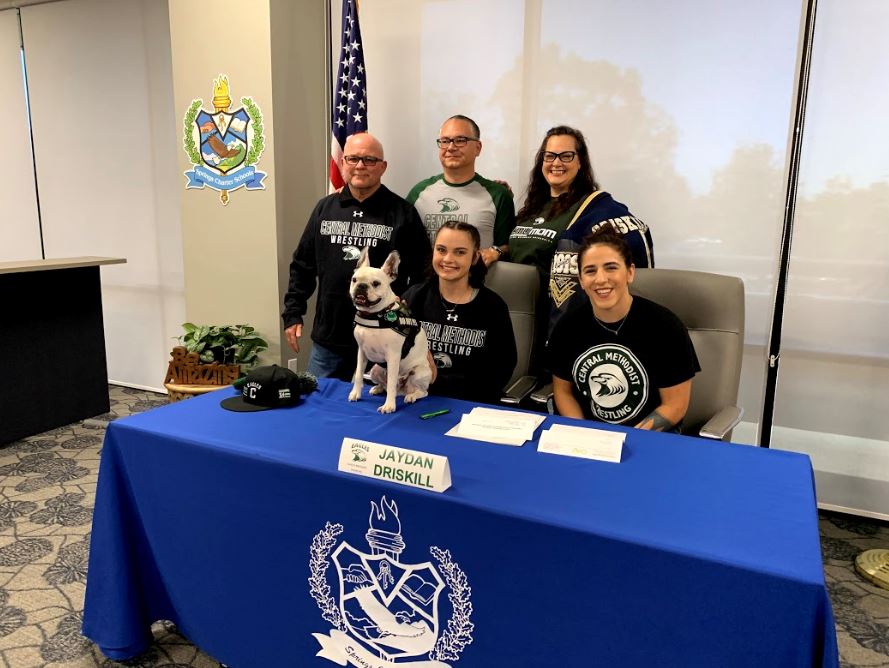 Seated are CMU Coach Brieana Delgado and Jaydan Driskill. Standing are Team So Cal Coach Steve Glassey, and Jaydan's parents Zane and Natalia Driskill. The dog is Jaydan's service dog.
"Women's wrestling is the fastest growing sport in America," said Natalia Driskill, Jaydan's mother. "She had been a volleyball player, was introduced to wrestling by her brother, and came to love the sport."
Jaydan is in her second year at Venture. She had struggled in a traditional public school environment, her mother said, due in part to Jaydan's frequent international travel. However, two years at Venture has "turned her academics around," her mother continued, as she went from "sitting in the classroom zoning out to becoming actively engaged in learning. It's been truly amazing. She went from not wanting to go to college to wanting it and receiving a full scholarship."
Jaydan was named student of the month in November, and has earned a 4.0 GPA over the last semester. In addition to wrestling, she is a gifted musician and vocalist.
She plans to earn a master's degree in clinical psychology, and work in sports psychology or helping others overcome trauma. She is subject to panic attacks, Natalia said, and keeps a service dog with her to help her stay calm. Natalia continued, "That's what sparked her interest in psychology."
Jaydan currently wrestles with Team So Cal, training three hours or more daily. She is excited about going to CMU, her mother noted, "as she can take her wrestling to the next level."