Springs' Venture Online 8th grade student Gracie-Beth Sutton, 13, is a gifted rodeo rider. Most recently, the Cherry Valley cowgirl earned the honor of California Junior High School Rodeo Division All Around Cowgirl, meaning she earned more points than any other girl at the state finals, and Breakaway Champion.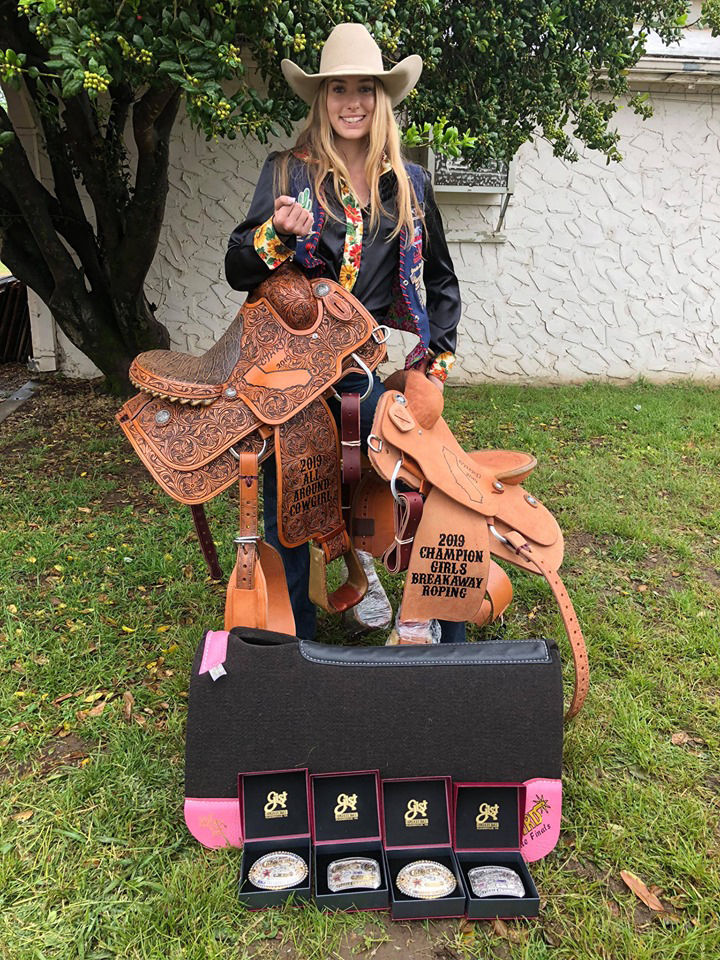 She loves riding, and is excited about her future prospects.  She said, "I love the trust my horses and I have to have in each other.  We are a team, neither of us are much good in the arena without the other!  I am very lucky to have the super talented horses that I do."
She has been riding horses her entire life.  At 3 years old, she began competing at gymkhanas (equestrian competitions) locally, and at 7, started competing in junior rodeos along with her brother, Wyatt Sutton, a Springs graduate.  She currently competes in the California Junior Rodeo Association and California Junior High School Rodeo Division, as well as in open rodeos and jackpots.  Wyatt has a PRCA permit and can be seen competing at local pro rodeos.
Most weekends you'll find her at a rodeo.  Since January, she's won four saddles, 12 buckles and scholarships she can use upon her graduation from Springs.  She also has the opportunity to win cash jackpot roping.  In July, she will rope at California's Richest Breakaway Roping, and, in December, she will be entered in the All In Breakaway Roping in Las Vegas with over $300,000 in prize money.  Her goal in 2020 is to qualify for a $1,000,000 competition.
Venture Online has been a good fit for her: "Rodeo is more than just a sport, it is a lifestyle.  Venture fits into this lifestyle with ease."
The program frees up her daytime hours to ride and rope, allowing her to do her schoolwork at night.  Her family also travels frequently for rodeo; Venture allows her to do her work while on the road.
She is grateful to her parents.  She said, "My parents have made sure I have good horses and the best trainers."