After 19 Years, Springs is Still Putting Students First!
The past few months have been tough for charter schools in California on two fronts.
First, after laying the groundwork for action over the past several years, the California Teachers' Association (CTA) launched four bills in the assembly that seek to stop the creation of new charter schools and threaten the continued survival of existing charters.
And second, a couple of unethical charter operators have been playing fast and loose with the law in order to fleece the system, enrolling children by the boatloads into their schools and providing very little education in return for the public dollars. These two factors are converging to cause intense public scrutiny on charter schools.
Charter schools were created to jumpstart a public education system that continually failed the most vulnerable students. Charters provide parents choices and districts competition. Due to a variety of factors, including charter school growth, enrollment in traditional school districts in California is declining, causing strain and tension between districts and charters. When districts lose students to declining births in an area or other factors including charter school enrollment, they have a responsibility to cut costs proportionately. This works for districts all over the state, many of which are financially stable with less than 3,000 students. Several of the biggest districts, including Los Angeles Unified, Oakland Unified, and San Diego Unified have not figured out a way to balance their budgets even with the economies of scale provided by enrollments of over 100,000 students. This is perplexing and signals bigger problems within those districts.
Most charter schools are focused on the right priorities — educational innovation, student needs unique to their communities, and parental buy-in and participation, to name a few.
Nineteen years ago, we built Springs to provide a personalized, motivating education for all students. We work to put children in the driver's seat of their education, with the partnership of their parents and our teachers. We didn't build our schools to "steal money" from school districts or to make money for a corporation.
Here are some facts about Springs that you should know as you continue to follow and support the charter school movement:
OUR STUDENTS GROW ACADEMICALLY
Our top priority for every student is to make a year's growth each year, and more if they enter our school below grade level. Our personalized learning model ensures that we diagnose learning needs for each student and create a personalized, data-driven plan to reach that growth goal. Unlike traditional schools, our flexible classroom structure provides the time and space for this personalization.
WE WORK CLOSELY WITH OUR AUTHORIZERS TO BUILD COMPLIANT SCHOOLS
Springs is fortunate to have very high-quality authorizers. Three Springs schools are authorized by counties; Riverside, Orange and San Diego County Offices of Education; and one is authorized by the State Board of Education. Two are authorized by school districts. These authorizers help keep us up-to-date on the constantly changing regulations that govern our business operation and collaborate with us to build best practices throughout our organization. Current bills that will have a lasting negative impact on all charters in California, including Springs, include AB 1505 and AB 1507. Fortunately, our schools are established and well positioned to weather the changes if these new anti-charter bills are passed into law.
WE GET RESULTS WITH OUR STRUGGLING AND SPECIAL EDUCATION STUDENTS
Did you know we have a higher percentage of special needs students than our local districts? And did you know that students who enter our school below grade level and who stay with us for a minimum of one year make significantly more than a year's growth at Springs? We are closing the achievement gap for our students who need support the most.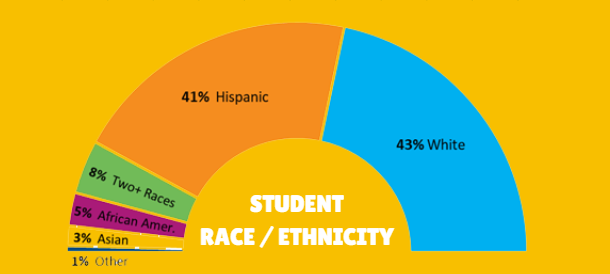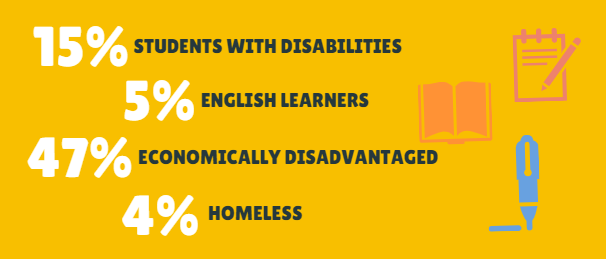 WE ARE SELF-MANAGED
Unlike some charter schools who contract with a management company, we at Springs manage our own schools locally, based out of our administrative offices located in Temecula, CA. All the state and federal funding attached to each student stays local, and is used to support our students, not some outside company. Springs charters are tuition-free public charter schools, and like most charters, we're operated as non-profit organizations, with non-profit boards who adhere to the Brown Act and all conflict of interest laws.
WE SPEND OUR MONEY ON STUDENTS
At Springs, we spend over 90% of our yearly income on teachers, student direct services, instructional materials and student facilities. We provide 19 student center facilities with security and nutrition programs. We have upgraded our amenities and safety infrastructure at each of our sites over the past three years, at a cost of hundreds of thousands of dollars. Just like traditional school districts, our books are audited each year and our accounting is transparent. We put our money where our mouth is.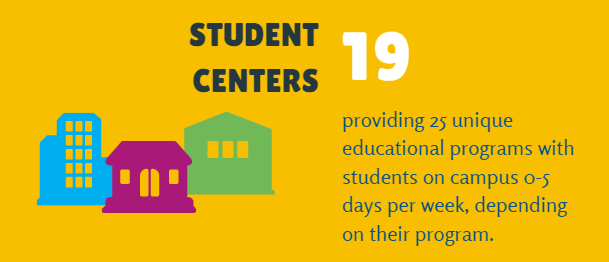 WE CREATE OUR OWN PERSONALIZED CURRICULUM FOR OUR STUDENTS
Unlike some online or homeschool charter schools who provide one-size-fits-all "canned" curriculum often purchased out-of-state vendors, Springs constantly develops and refines our own online curriculum to support mastery of not only the state standards, but our mission-driven goals such as using the community as the classroom, personalizing learning, empowering students through the use of our own Power Tools and providing motivating choice to students.
Click here to see a cartoon advertising one of our custom curricula.
WE ARE COMMITTED TO OUR MISSION
Springs uses the community as the classroom and keeps education real. Our high school students are provided with diverse and robust career technical education and internship placements (CITE) as part of their core high school experience. Many of our high school students take and pass college classes before they've even graduated. Our mix of classroom and independent learning experiences helps prepare our students for college or career, as the State of California attested in our recent dashboard score.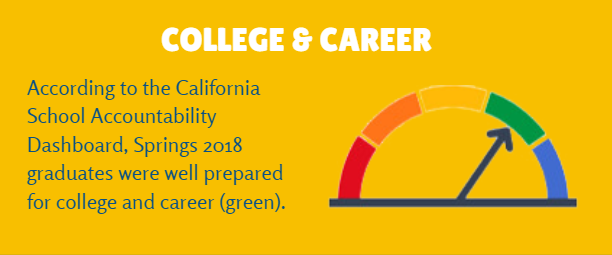 WE HAVE SATISFIED STAFF
We were voted in the top 5 of large workplaces in the Inland Empire by The Press-Enterprise in 2017 and 2018 based on independently administered employee satisfaction surveys. Our employees are happy public school employees, with good benefits, including membership paid by Springs (with an employee contribution) in the State Teacher Retirement and Public Employee Retirement programs. Our teacher turnover is quite low at less than 15% each year.

ALL SIX SPRINGS CHARTERS WERE RECENTLY REAUTHORIZED
All six of our charters were recently reauthorized, most for five years. Our authorizers were pleased with our academic growth, fiscal management, educational innovation, and ethics. Curious about how charter school renewals in California work? Click here.
I hope this long update helps our parents understand the quality and ethics of Springs Charter Schools, and the need to continue advocating for charter school causes. We are revolutionizing education for our kids and for the entire public school system.
Dr. Kathleen Hermsmeyer
Superintendent