Join us at the Riverside Pathfinder Learning Center on October 27th as we welcome the Imagination Machine Assembly! From the Top workshop is a new writing workshop from the Imagination Machine that delivers the fundamentals of creative writing. With a focus on building characters from the inside out, showing the significance of setting, and resolving conflict with plot, we will show your students how easy it is to build a story from ideas found in your very own imagination. So let's take it From the Top!
Please also register for our Young Author's contest by November 27th. Students will submit their stories for judging and have the opportunity to have their stories selected to be acted out at our Part 2 event on February 2nd. Stories should be submitted to our Dropbox no later than December 1st.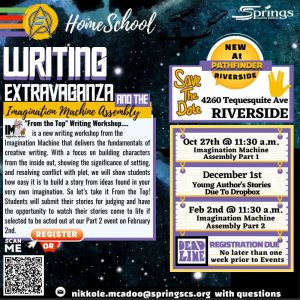 IMPORTANT INFORMATION:
Click here for Guidelines and Detailed Information
Questions? Contact Nikkole McAdoo.