DON'T MISS ANY INFO, SCROLL ALL THE WAY DOWN
As you enter the final semester of your high school journey, please continue to work closely with your teachers to submit current class assignments and turn in make-up work that you've completed at home.  Parents, we encourage you to keep in touch with your child's teachers and Guidance Counselor to ensure that adequate progress is occurring and your student is on track to graduate.  If you need to confirm your Guidance Counselor's contact information you can call the Guidance Department at 951-252-8833.
---
Graduation Registration opens February 1, 2022

The deadline to complete the Graduation Registration Form was March 15, 2022.
---
Graduation Ceremony
Date/Time:
Tuesday, May 24, 2022 – 4pm
Location:
Pechanga Resort Event Center
45000 Pechanga Pkwy
Temecula, CA 92592
Download a copy of the Grad Letter.
Graduation from high school is a momentous occasion in life. It is a very special time for parents, relatives, friends, teachers, and school staff who have given their support and share in the graduate's excitement.  Thank you all for being a positive influence in the life of your graduate.  And thank you to our graduates for their hard work and perseverance.   All of us look forward to an enjoyable and meaningful graduation ceremony.  Be a proud member of the Class of 2022… ready for the challenges and opportunities that await you!
Please send your questions to events@springscs.org.
Contact your Guidance Counselor if you are unsure whether or not you are on track to graduate.
---
Graduation Cap and Gown Information
Students are expected to wear a solid black cap and gown (matte finish is preferred) in order to participate in the graduation ceremony.
A tassel will be provided. Students have the option of purchasing a gown or borrowing one from a sibling/friend.
You may decorate the top of your cap only and it must be done tastefully.
There are many economical choices available to purchase caps and gowns online. If you want to order your gown and other graduation products, we recommend Josten's. You can find them here. Click on Graduation and scroll down to find the products you are interested in. You can also call Jostens at 1-877-475-7027 if you have questions. We recommend you order any additional merchandise that you would like from Jostens at the same time to save on shipping.
TIP: Some optional graduation products may be worth price shopping from other places. (i.e. Walmart has class rings)
You need to place your order by April 1, 2022, to be assured of receiving your gown and any other products by graduation.
Ordering any later than April 1st may result in needing to pay rush shipping fees to get your items on time.  Orders placed with Jostens will be shipped to the address you provide – NOT the school.
If purchasing a gown presents a financial hardship, please email events@springscs.org to discuss alternate options.
---
Tassel and Medallion Information
Tassels and a commemorative medallion will be provided for all graduates to keep, free of charge, in early May. 
---
Sashes
Sashes are available to purchase and will be mailed to your home address along with the tassel and commemorative medallion. You can also borrow a sash at the graduation ceremony.  In either case, we need you to complete the form noted below.
From the MySprings dashboard, c
lick the tile labeled "Graduation Sash Order Form".
To complete the order, y
o
u will be asked to enter your parents' preferred email address or for adult students, your preferred email address.
Please complete this order form by April 27th.
---
Graduation Commencement Speakers & Musicians Needed
Please audition to be a part of the Class of 2022's graduation ceremony as a speaker or a singer. We are asking students to submit their auditions virtually as well as submit a separate audition registration form so that we can keep track of who is submitting auditions. Upload your audition to our DROPBOX HERE.  
Guidelines for speeches: 
Length should be 3-5 minutes

Your topic should be meaningful to all students  

It should be about how your time with Springs has contributed to your education

and prepared you for your future.

It SHOULD NOT BE a personal thank you to your parents, teachers, friends, etc.
Both Speakers and Singers need to upload the following:
a videotaped recording of you giving your speech or song

a written copy of your speech or the lyrics of the song (the name of the document should include your first and last name)
The deadline to submit all audition videos has been extended to March 31st. Thank you and good luck to all our candidates!
---
Senior Spotlight Videos
We are honoring our Springs' graduating class of 2022 with our Senior Spotlight Videos that will be shared on social media and at the graduation ceremony. If you missed our video team when they were at your campus, it isn't too late to submit your spotlight video!
Please be mindful of the way you name these photos so that our video team can easily match the already recorded videos with your submission of the photos. Name your photos starting with the last name of your student, followed by the first name and your program name. Ex. Snowflake_Suzie_Homeschool (Baby Photo), or Snowflake_Suzie_Homeschool (Present).
Upload your Senior Spotlight videos and baby photos to our drop box no later than March 30th.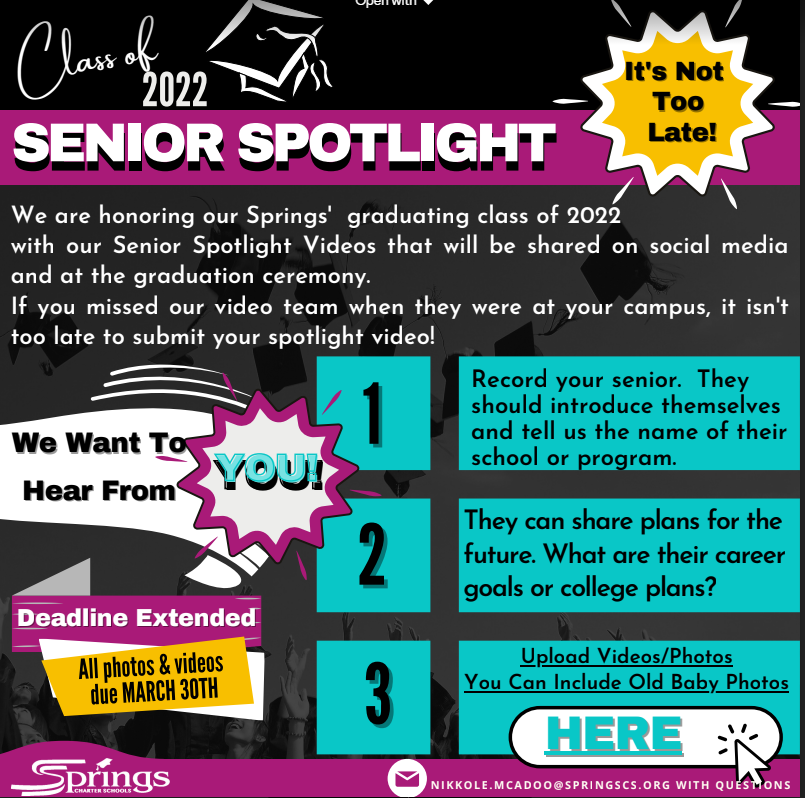 ---
Class of 2022 – We need your Help!
What I Wish I Knew (Or I Wish Someone Had Told Me) The Day I Started High School
We are already preparing for next year's High School Parent Ignite. We are looking for assistance and words of wisdom from this year's graduating class to share with our incoming freshmen and families next year.  What are some valuable tips of wisdom and information you could share with our incoming freshman that would have helped you "had you known" back then what you know now.
We would love for you to share any words of wisdom or advice you could give our incoming group.
Please upload your video and your words of wisdom HERE. Thank you so much for your help.