CONGRATULATIONS TO THE CLASS OF 2020!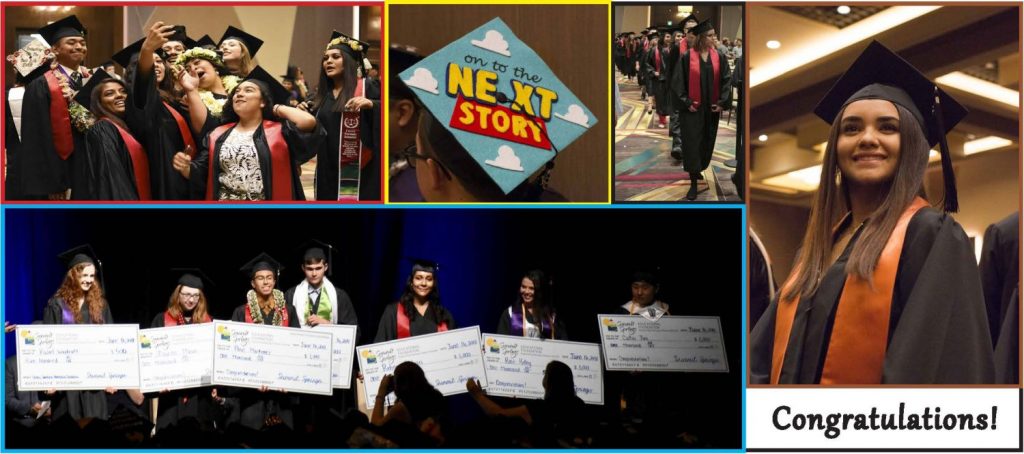 As you enter the final semester of your high school journey, please continue to work closely with your teachers to submit current class assignments and turn in make-up work that you've completed at home.  Parents, we encourage you to keep in touch with your child's teachers and Guidance Counselor to ensure that adequate progress is occurring and your student is on track to graduate.  If you need to confirm your Guidance Counselor's contact information you can call the Guidance Department at 951-252-8833.
Graduation Ceremony
Date/Time: Saturday, June 13, 2020. – 3 p.m.
Location: Virtual Ceremony streamed on our YouTube channel
Graduation Registration Opens February 3, 2020
This online Graduation Registration Form must be completed for all seniors, regardless of whether the student plans to attend the graduation ceremony. The deadline to complete the Graduation Registration Form is April 30, 2020.
Graduating seniors may participate in the Graduation Ceremony if:
The student has completed the graduation requirements (or is within 5-10 units of completing graduation course work AND is enrolled in summer school). If you anticipate that your student may not meet the 230 unit graduation requirement we encourage you to be in touch early and often with your Guidance Counselor to discuss options and opportunities.
The student is in "good standing" in regard to citizenship and behavior. Participation in Springs' graduation ceremony is a privilege. Students will be notified in writing if the privilege to participate has been withdrawn based on non-academic issues.
Graduation from high school is a momentous occasion in life. It is a very special time for parents, relatives, friends, teachers and school staff who have given their support and share in the graduate's excitement.  Thank you all for being a positive influence in the life of your graduate.  And thank you to our graduates for their hard work and perseverance.   All of us look forward to an enjoyable and meaningful graduation ceremony.  Be a proud member of the Class of 2020… ready for the challenges and opportunities that await you!
Please send your questions to events@springscs.org.
Cap and Gown Information
Students MUST wear solid black caps and gowns (with black tassels) in order to participate in the graduation ceremony. Students have the option of purchasing these items or borrowing them from a sibling/friend. To order your cap, gown, tassel and other graduation products, click here, then click on Graduation and scroll down until you see Caps & Gown.  Follow the prompts to find the product you're interested in.   The cap/gown/tassel package is about $50.  You can also call Jostens at 1-877-475-7027 if you have questions. We recommend you order any additional merchandise that you would like from Jostens at the same time to save on shipping.
TIP: Some optional graduation products may be worth price shopping from other places. (i.e. Walmart has class rings)
You need to place your order by April 30, 2020, to be assured of receiving your cap and gown by graduation. Ordering any later than April 30th may result in needing to pay rush shipping fees to get your items on time.  Orders placed with Jostens will be shipped to the address you provide – NOT the school.
You may decorate the top of your cap only and it must be done tastefully.
If purchasing a cap and gown presents a financial hardship, please email events@springscs.org to discuss alternate options.
Tassel Information
When ordering a cap and gown through Jostens the black tassel is included. However, some students elect to order an additional tassel. Students who are borrowing a cap and gown from a sibling/friend will likely want to purchase a tassel as well. Jostens has options for tassels, but you also have the option of purchasing a 2020 black tassel from Springs for $10. The deadline to request a tassel and provide payment is April 30, 2020.  If you would like to order a tassel, please send an email request to events@springscs.org.  
Sashes
Graduates will be provided a sash to wear on the day of the ceremony, which MUST be returned before leaving the Event Center.  Each graduate will wear a colored sash designating their school program:
Homeschool: Purple
Renaissance (RRWA): Red
Aviation: Green
Keys/Arrow: Green
Venture: blue
Sashes are $15 if you would like to purchase one to keep. If you would like to purchase a sash, please send an email request to events@springscs.org.  
Student Performances at the Ceremony
Students should indicate their interest in speaking and/or singing on the Graduation Registration form.  You will be contacted by the end of April with more details. The final deadline to submit any speeches or vocal performances is April 30, 2020.
Prom and Grad Nite
Springs Senior and Junior Prom is being held on Friday, May 1, at Eagle Glen Country Club in Corona. Grad Nite is at Disneyland on Saturday, May 30.
Contact your Guidance Counselor if you are unsure whether or not you are on track to graduate.
The video below showcases our 2019 Graduation Ceremony. Get ready for yours!